VetTechPrep is the clear choice
for your VTNE® preparation.
Our content is relentlessly reviewed, and it's close enough to the real exam that you'll feel confident, prepared, and ready to pass VTNE®.

Study with the Actual VTNE® Format
Every aspect of our practice exams was designed to simulate a real VTNE® exam

Review Key Topics with PowerPages™
Detailed summaries for quick and efficient review of key VTNE® subjects

NEW

Image-rich Studying with PowerPix™

Visually review case photos, conditions, instruments, and more in a flashcard-like format

Detailed Metrics
Statistics allow you to track your performance and more effectively allocate study time

Timed Exams
Timed exams allow time management to be practiced and closely mimic the experience of the VTNE®

Questions Written by Experts
VetTechPrep Certified™ questions and answer explanations are peer-reviewed by experts

Detailed Answer Explanations
Comprehensively understand not just which answer is correct but why other choices are incorrect

100% Online and Mobile
Access VetTechPrep 24/7, anywhere with an internet connection from your computer, tablet, or smartphone

Choose the Plan that's Right for You
45-, 60-, and 90-day subscriptions are available, with study plans tailored to ensure success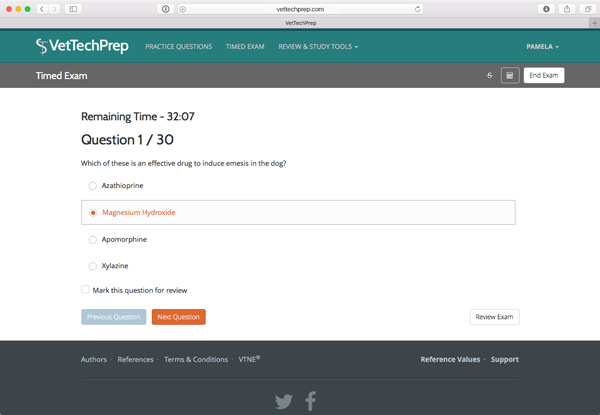 Just Like Exam Day
Format that Simulates the Actual VTNE®
The ratio of question topics, question format, and user interface were specifically designed to simulate an actual VTNE® exam and to get you accustomed to the timed test. Practice questions allow you to test your overall knowledge; timed exams help you gauge your ability to answer questions at a pace to complete the actual exam.
And to further get into exam mode, you can even strike through answer choices to narrow down your options.
Full Comprehension
Thorough Answer Explanations
Detailed answer explanations are one of the most important learning tools in VetTechPrep. Instead of memorizing answers, the explanations help you better understand the concepts. Don't just learn which answer choice is the correct choice; learn why that answer is indeed the correct choice. No VTNE® exam questions will be identical to what you've studied, therefore comprehension is key to success on exam day.
NEW Image-rich Studying with Flashcards
VetTechPrep PowerPix™
PowerPix™ provides a great way to visually review case photos, medical conditions, instruments, and more in a flashcard-like format with notes on each image and the ability to zoom in on details. Choose from two modes: a Review mode that lets you choose a category and presents the notes alongside the image, or Quiz mode that randomly serves images, hiding the notes until you decide to view them.
24/7 Access on Mobile Devices
VetTechPrep Mobile
Access VetTechPrep any time and anywhere via your smartphone or tablet and the mobile web app. Our HTML5 mobile site is optimized for mobile devices, letting you get in a few questions when you have some time. Take a few random questions, study from a specific category, or try a few of your most difficult ones.
The mobile version provides access to every aspect of the program, automatically resizing to fit your device.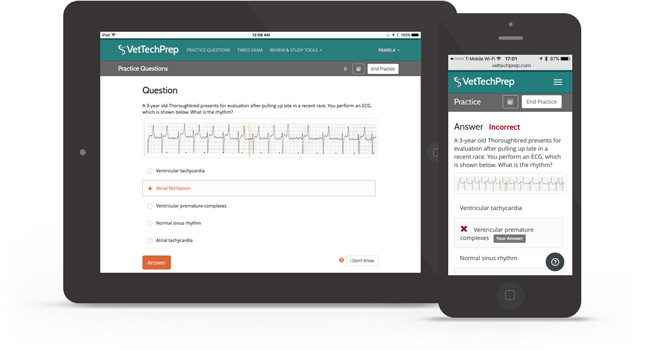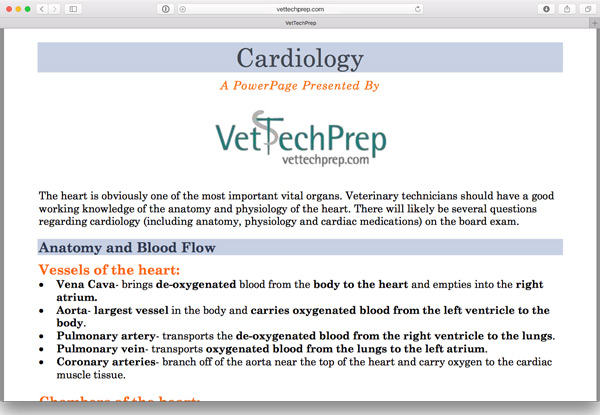 Clear & Concise Topical Pages
VetTechPrep PowerPages™
PowerPages™ are neatly packaged PDFs each focused on a single key vet tech topic. Each PowerPage™ is condensed to the main points on the subject for quick synopsis. They provide the equivalent of a summary and highlights for a topic specific lecture or review session. PowerPages™ are also linked to questions on the topic for easy accessibility when you need additional information to master the concept.
Study Efficiently & Effectively
Detailed Metrics
Statistics and graphs allow you to track your performance granularly, helping you to more effectively allocate your study time. Statistics are broken down by category and subcategory enabling you to gauge your progress. This statistical information illustrates your strengths and weaknesses so you can make the most of your study time.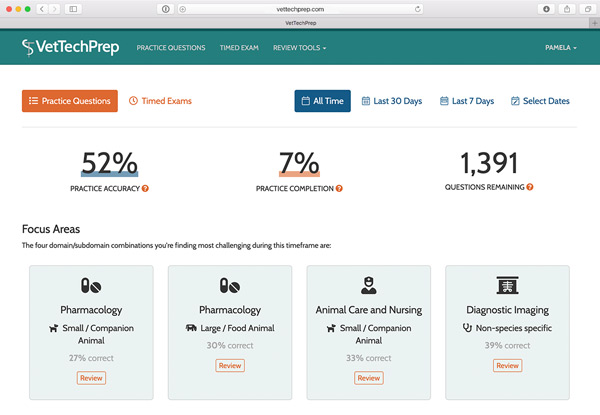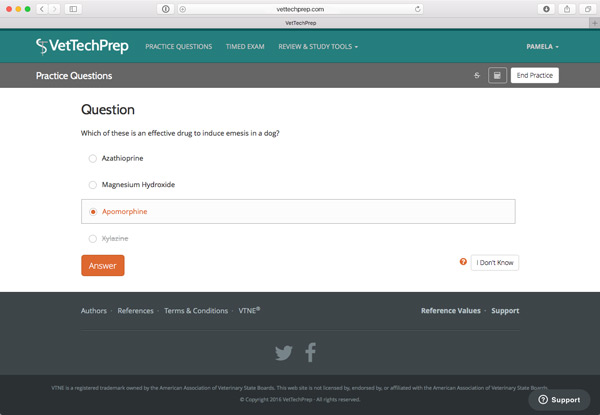 Hand-crafted Questions & Material
Peer Reviewed Questions & Material Written by Experts
Questions are carefully crafted and peer-reviewed by experts. Additionally, every question is written by a specialist in the field, reviewed by peers, and sent to a copy editor to ensure clinical accuracy and clarity.